Univac 494s at BEA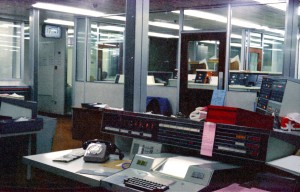 I worked for British European Airways in London from 12/68-9/72.  BEA ran 3 Univac 494 machines: one for ASRS (Automatic Seat Reservation System), one for CALC (Cargo Acceptance & Load Control) and FICO (Flight Information and Control of Operations), and a third machine used for testing and standby, which could be switched to either online machine.
The machines ran a mixture of different models of drums.  One type were Fastrands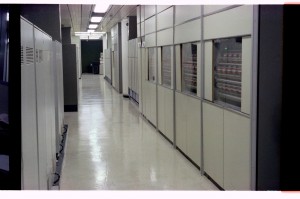 , about 2 feet in diameter and 6 feet long.  I never knew how long they took to come up to speed, but it must have been substantial!  BEA also ran smaller fixed-head drums; FH-432 ("Flying Head", "Fixed Head"?) if I recall correctly.
Each machine had dual drum channels, with writes taking place on both channels and reads taking place on the channel that would be fastest.  Each machine had around 100 MB online.
The processors used 30-bit words, split into 2×15-bits.  An engineer told me that they actually used the same 36-bit memory as Univac 1108s but ignored 6 bits. The predecessor Univac 490 had a 15-bit address space, and the 494 followed suit, but had 4 banks for a total of 2**17 30-bit words, or 480KB in today's terms. I completely forget how bank-switching occurred, except that I have a vague recall of supervisor and user modes.
The 494 had 2 registers, A and Q, and very powerful bit operators: Q could hold a mask through which A could operate on memory.  There were no conditional branch operators, only a skip, but this allowed two-condition tests in only three words:

    Skip if case 1
    Skip if case 2
    Jump to X
    // continue

It was a ones-complement machine, so it had both +0 and -0 (see fourmilab). It had a Stop instruction with 8 variants, of which #4 was unconditional.  I never discovered the use of the other 7, but a system halt was universally known as a 4-stop.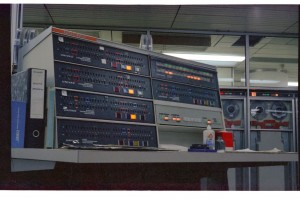 It was connected to terminals around the country (and possibly on the continent) through leased lines, probably at 110 or 300 baud, which came in through multiplexors, colloquially known as muxes.
ASRS used special-purpose terminals which selected the flight by physically putting in a card representing that flight, but later systems used U-100 and U-300 terminals, the latter having no keyboard.
The operating system was Contorts 7, which was developed in-house; whether from the ground up or based on a Univac system I do not know.  Projects were written in SPURT IV, the assembler, or Neliac, an ALGOL variant developed by the U.S. Navy.  Modules were swapped in and out of 3 3K areas, and data for the process was held in a transdata, or TD.
I first worked on CALC in Neliac, but then moved to the comms team writing synchronous and asynchronous comms handlers, followed by a stint in a team providing 24/7 quality assurance and problem diagnosis for the on-line system. Reliability was an important factor, and each week a memo gave the availability excluding scheduled downtime.  This figure was typically 99.5%, and I have a photograph of a colleague with the blackboard behind him boasting "12 DAYS WITHOUT A 4-STOP".
When the system failed, it would write the whole of memory to drum, known as a Flying Core Dump, or FCD, and then restart. Space was reserved for 7 FCDs, and they were printed out as a half-inch-thick listing of 10-digit octal numbers.  I wrote a memo for the QA team on ways to analyse this
After I left, BEA merged with British Overseas Airways Corporation (BOAC) to form the current British Airways, and the reservation system was abandoned in favor of BOAC's S/360 system. There is a great page about West London Air Terminal where these machines were located.