Small War in Middle East; Climate Tipping Point Has Begun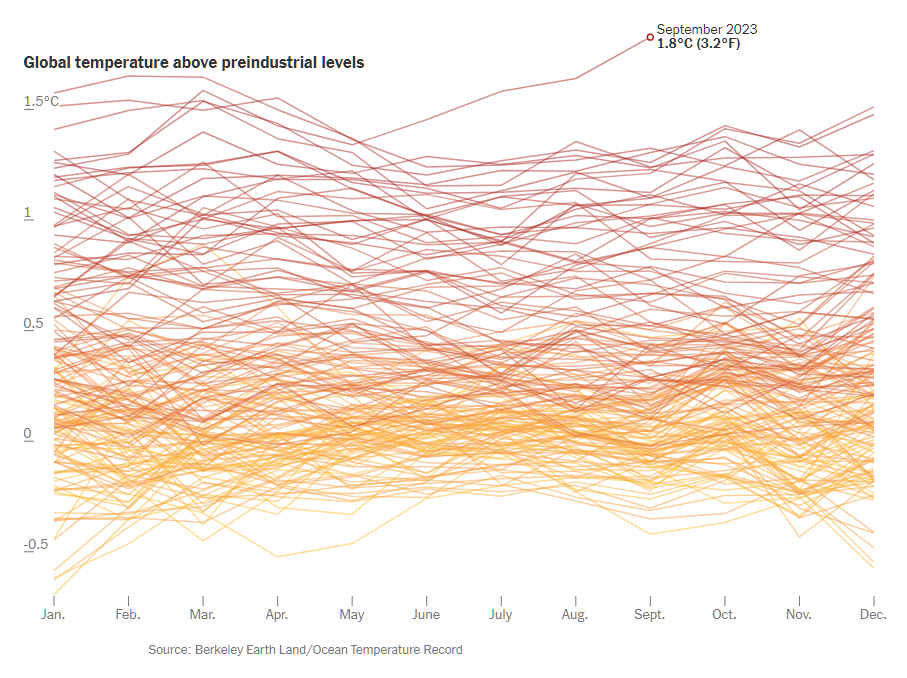 I'm not minimizing the horror of what is happening in Israel, and I assign blame to both sides, whether the split is 90/10 or 60/40. But look at the above chart of global temperature deviations since 1850 from the NY Times article "I Study Climate Change. The Data Is Telling Us Something New." (Free link.)
Bistable systems have two stable states like valleys. Small fluctuations do not change the state, but a large enough perturbation will nudge the system over the intervening hill and change to the opposite state. In an ice age, the earth reflects so much sunlight back into space that it remains cold; when enough ice vanishes, the earth absorbs so much heat that ice cannot form.
The chart suggests that a bistable change may be taking place with the earth's climate. September was almost a full degree Fahrenheit hotter than the prior record, and there is evidence that global warming has accelerated over the past 15 years rather than continuing at a gradual, steady pace. Not every climate scientist agrees that a runaway effect is happening; volcanic activity and cleaner air are factors, but some say that the spike defies simple explanations.
Even before this, WHO conservatively projected 250,000 additional yearly deaths by the 2030s due to climate change impacts on diseases like malaria and coastal flooding. How does that compare with the 1000s of deaths so far in Israel?
As this year's joke goes: that was the coolest summer of the rest of your life.