Actions Have Consequences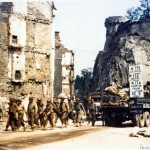 Paris/San Bernadino happened because of ISIS.
ISIS arose because Iraq was invaded.
Iraq was invaded because of 9/11.
9/11 happened because of U.S. missile strikes on Bin Laden's HQ, see White House daily brief, Wikipedia.
The missile strikes happened because two embassies in Africa were bombed.
See the above link for why the embassies were bombed.
etc.
You may quibble about this causality and ascribe extra causes; nevertheless, the point is that each reaction continues the chain. To break the chain, stop the reactions.
If you are Christian, consider these precepts:
Dear friends, never take revenge. Leave that to the righteous anger of God. For the Scriptures say, "I will take revenge; I will pay them back," says the LORD. (Romans 12:19)
But I say, do not resist an evil person! If someone slaps you on the right cheek, offer the other cheek also. (Matthew 5:39)