The Press Versus Trump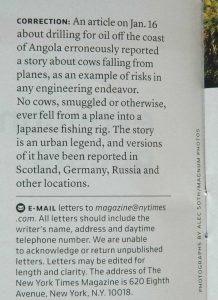 The NYTimes just published a fascinating article, not for its content, but for its tone. Starting with the headline "With False Claims, Trump Attacks Media on Turnout and Intelligence Rift", the message is that the Trump administration lies, and those lies are being unequivocally called out. I have been a subscriber for 30 years and have never seen such a clear denunciation. It starts with the opening paragraph:
President Trump used his first full day in office on Saturday to unleash a remarkably bitter attack on the news media, falsely accusing journalists of both inventing a rift between him and intelligence agencies and deliberately understating the size of his inauguration crowd.
and continues:
"Mr. Trump ignored his own repeated public statements criticizing the intelligence community, a group he compared to Nazis just over a week ago."
"It was a striking display of invective and grievance"
"On Saturday, he said journalists were responsible for any suggestion that he was not fully supportive of intelligence agencies' work…. Mr. Trump said nothing during the visit about how he had mocked the C.I.A. and other intelligence agencies"
"[His press secretary] incorrectly claimed that ridership on Washington's subway system was higher than on Inauguration Day in 2013."
Along with this, CNN declined to air the press conference live, deciding to see what was said and then play relevant parts as deemed necessary. It looks like the start of an all-out war between Trump and the press.